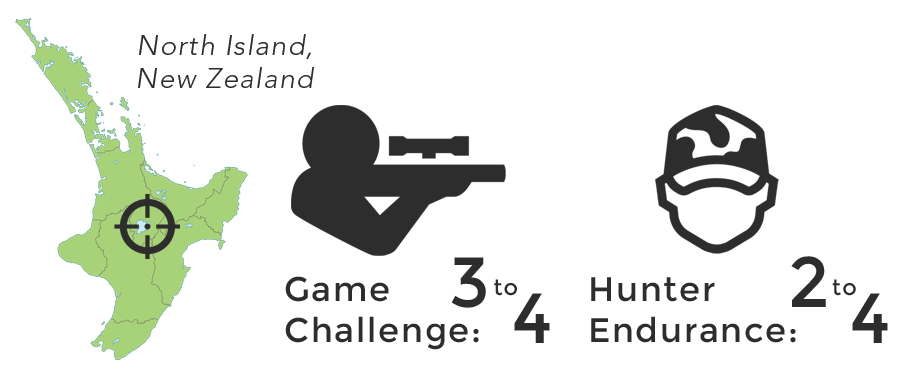 The South Pacific is the only region in this world this species can be hunted. Closely related to the Rusa, Sambar also prefer to inhabit thick scrub and bush however this species frequently ventures out into small clearings to feed.
Sambar are a large deer with a distress bark that is not dissimilar to a fog horn! The second largest deer species in New Zealand, a mature stag can weigh 700+lbs. The antler on Sambar are very dense, and for this reason they are often sought after by both trophy hunters and knife makers all over the world.
We glass from the edge of the open fields down into the valleys looking for a flicker of the ear, a slight movement of the body. Sambar hunting requires patience and timing to find these shy giants, moving typically early mornings and late evenings Sambar will be seen more often on cooler mornings as the sun hits open valley faces where they will come out to sun themselves.
Fitness does not play a major part in this hunt, patience and skill as a hunter will earn you the reward that very few have the opportunity to experience.
We offer limited hunts each year on Sambar Stags, as this private property does posses some of the biggest wild Sambar deer in the South Pacific we strive to maintain the quality and numbers on this privileged hunt.
Hunts can be combined with Sika and Rusa deer also in the North Island, and with any of the main species in the South Island with a short 1 hr commercial flight.
Sambar can be hunted from late May through July, with the rut running from mid May to August.