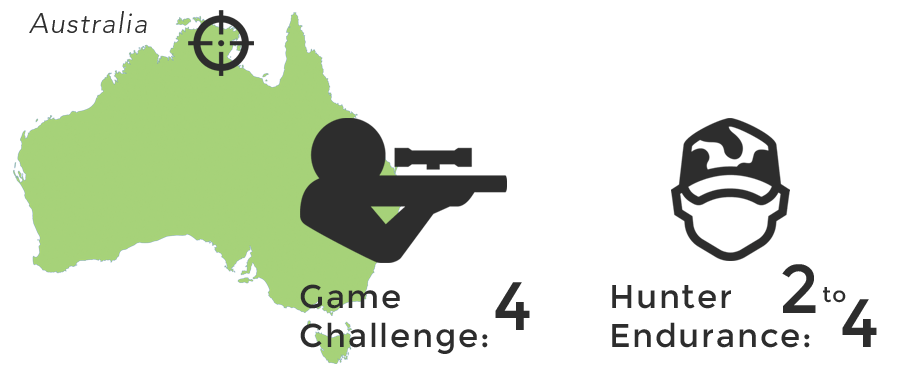 Banteng were originally introduced from Thailand in 1849 to the Coburg Peninsula in the Northern Territories of Australia for an establishment of a British outpost called Port Essington with the original heard totaling 20 Banteng cattle (Bos javanicus) they were intended to be used as a food source. 
Today these wild and free ranging Banteng live in the Garig Gunak Barlu National Park, and are managed by the traditional owners of the land 3 Brothers Safaris for both food and hunting. The national park is 872 square miles, with one of the areas fenced to keep domestic cattle out to prevent interbreeding and maintain the purity of this rare herd. Dr. Corey Bradshaw conducted a study on these wild cattle in the Garig Gunak Barlu National Park and found that: 
The national park is home to the largest herd of wild and free range Banteng in the world

This herd represents a conservational importance to the now endangered breed in their home country

Are still pure bred Banteng, and have not been crossed with domestic cattle like most banteng outside of the park

The head is appro

ximately 8,000-10,000 strong

Within the forest, population density was found to be around 70 per square kilometer (27 per ml2)

Has adapted to interact positively with native bird populations 

Grazing by banteng minimizes potential dry grass build-up, thus limiting encroachment of seasonal fires. 

Limited overgrazing off the habitat especially compared to buffalo and feral pigs, and will change their diet from grass to drive leaf matter during the dry season. 

Because of the socio-economic niche the banteng has occupied both from hunting and for food, it has a role in helping to recover endangered wild populations in Asia where there are fewer than 500 left in the wild.
The banteng prefer to feed near a permanent water supply, when conditions are suitable they will drink daily. But during a drought they can survive several days without water. With an average height of 61-65 inches at the shoulder and weighing between 1300-1800 lbs, wild free range banteng are well known for being alert and flighty in their disposition typically disappearing into the deep jungle over confrontation. Female cow banteng are typically brown in colour, where the bulls can range from black to brown and tan, both with a large white rump and white sock markings on their legs. In the wild, banteng can live up to 20 years old, maturing at between 2-3 years old they typically will rut in October/November.